Brand Overview
---

More than anything, carpet manufacturers like Mohawk have your specific lifestyle in mind. That's why we innovated the softest, most family-friendly and pet-friendly carpets ever. Our carpet stands up to high-traffic wear and resists life's spills and stains like never before. With so many colors and textures to choose from, there's no reason to put off buying new carpet. With Mohawk, you're sure to find carpeting that suits both your lifestyle and your budget.
---

Brintons latest collaboration with iconic brand Laura Ashley sees the launch of elegant new floor coverings that combine heritage with innovation. Taking inspiration from Laura Ashley's extensive archive, the new collection boasts 12 new Axminster designs including soft blossoms, smart stripes, elegant scrolls, damask patterns and bold blooms alongside 4 new Bell Twist plains to complement them.
Commercial Brands
---

Today's economic climate demands both functional and aesthetic environments. When it comes to floor coverings, Milliken modular, broadloom and rugs meet these demands and much more. Milliken Carpet represents a true marriage of function and form, offering unparalleled advantages such as style and innovation; flexibility and performance; value and service.
Carpeting Services in Wilmington, MA | All Floorz
From sumptuous pastel plush to rugged berber tweeds, carpet is a universally popular floor covering, Broadloom has long been synonymous with comfort and luxury, but in today's eclectic room schemes, carpeting is just one of numerous soft options for a high-fashion floor.
Whether you choose a room-size loose-laid or wall to wall permanently installed over a cushion, this soft floor covering, offers many practical advantages. Broadloom's sweep of color and underfoot comfort gives any room-even sparely set ones-a more "furnished" feeling. Colors can work magic, too. For example, a light hue visually expands a small space, and a dark one cozies up a large room. Carpet in a sunny color can visually warm a room short on natural light. Before you buy carpets, study samples at home, and remember that the color of a room-size carpet will be more intense than the samples.
Advantages of Carpeting
Materials and construction give carpeting inherent virtues that may suit your decorating needs.
Broadloom absorbs sound, an appealing feature for condominiums, town houses, and homes with high ceilings.
Yarn construction and surface texture add soft contrast to a room's angular architecture.
As versatile camouflage, broadloom goes over any existing floor, with no need for a new sub-floor, and it hides uneven surfaces and existing floor damage.
Today, carpet is available with soil, stain, odor, and static-resistant features, and manufacturing techniques have increased its durability and cleanability.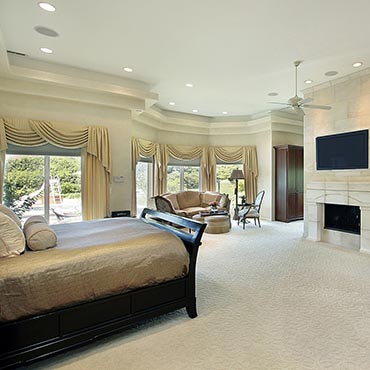 Featured Articles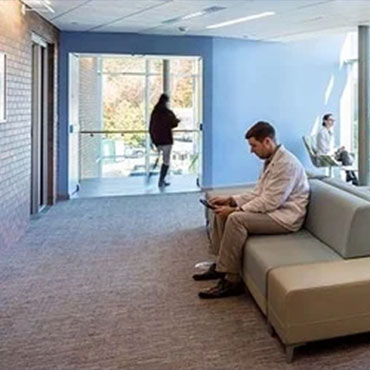 Milliken Commercial Carpet
If you're looking to cut-out the hassle of traditional flooring adhesives, it's time to turn to self-adhesive carpet tiles. From sticky backings to friction-based coatings, we're sharing the pros and cons of self-adhesive carpet tiles - and seeing how they stack-up compared to conventional adhesives.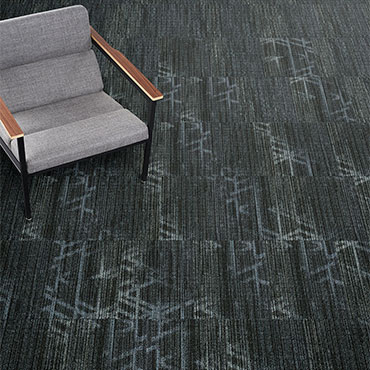 Milliken Commercial Carpet
Printed carpet offers unparalleled design flexibility and creative freedom. Designs can be made to match perfectly from tile to tile, and vary hugely in size – from high-resolution half-inch patterns, to patterns as large as your floor plan.